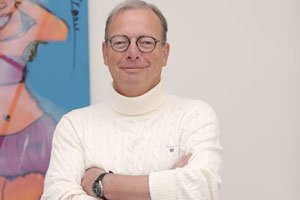 Marcel Bechger talks to Christel van der Werff about global leadership and change
Marcel Bechger talks to Christel van der Werff about global leadership and change
Leadership teams ensure that complex processes go smoothly
Fluor Corporation is a big international organisation that helps clients design, build and maintain complex construction projects all over the world. Generally, well-qualified employees tend to work on construction projects in places that are not normally associated with holidays, such as Kazakhstan. Such a construction project is often a melting pot of different nationalities, varying from 100 to 30,000 employees. To ensure that this complex process goes smoothly, a strong leadership team is required. Fluor mobilises these leadership teams.
Having joined Fluor as Executive Director Human Resources eight years ago, Marcel Bechger started designing, leading and supporting a leadership model, which is now applied in several countries. He is intensively involved in putting together the leadership teams for international projects as well as managing business-driven transformations within the organisation. In his role as promoter, Marcel is keen to consider how things can be done differently. Christel van der Werff, senior advisor at HFMtalentindex, talks to him about changing leadership within the organisation.
Internationale cooperation, different nationalities
A current project in Kuwait is a good example of such complex, international cooperation: the leadership team consists of Dutch, Brits and Americans. They manage around 15,000 employees, including Koreans, Filipinos and Indians. When assembling the teams for the various projects, they study the leadership competencies that are needed. Managing such a diverse workforce demands enormous flexibility from the leadership teams. Change is the order of the day, and the team needs to ensure synergy. Learning Agility (*see definition and explanation at the bottom of the article) is a goal here. The men and women who lead the teams score high on Learning Agility. Learning with and from others and being open to other cultures (People Agility) is obviously important for the leadership team. In addition, Learning Agility involves more than being able to get on with cultural differences and nationalities.
No day is the same, unexpected things are always happening, and some clients have a completely different view of the world. Marcel: 'We bear that in mind when recruiting and developing leaders in the organisation. They must be able to adapt quickly and respond to new situations. Besides having the necessary knowledge and skills, the ability to manage changing circumstances is important, and not getting bogged down in one's own dogmas. Then you can go far.'
Transformation
Insight into who is and who isn't learning agile generates valuable information. How quickly can people own new processes, guide innovation? How easily can they let go of something? This has been analysed at Fluor, partly because the business is undergoing a transformation. In the past, people started building and they calculated how many hours were required. If this gradually became more, the costs were passed on to the client. The engineer had to make what the client wanted, but that often changed during the execution. These were complicated construction projects, like refineries. A modification has consequences for everything, meaning that construction projects may cost more than originally budgeted.
Results agile and self-aware leadership 
The business now takes a different approach. A price is agreed in advance for the entire project. If the client wants modifications, the engineer must say: yes, but it will cost you more. Marcel: 'There are no problems with respect to the engineer's knowledge and skills. However, he must be able to keep sight of the goal, what was agreed. That's not in the nature of the average engineer, who really wants to start work on the project.'
Such a project demands a different approach. The engineer must be more results agile: stay calm under pressure, continue to display leadership, be able to identify results in a new situation and create focus. Results Agility, combined with Self-awareness, is vital in this situation, and Fluor selects accordingly.
Cultural diversity and inclusiveness
Internally, Fluor has great cultural diversity too: 40% of the employees in the Hoofddorp office have a different nationality than Dutch. How do you make all these people feel that they belong and are relevant? That varies according to the culture. The Dutch approach to managing and directing is different from that in Belgium, the UK, the Philippines or China, and that makes it complex. According to Marcel, it's not so much about knowing exactly where someone comes from. It's about being able to quickly identify someone's motivations, where he/she gets energy from, how you can engage someone in a story.
Inclusive leadership
Driven by a group of young, ambitious employees, inclusive leadership is now high on the agenda at Fluor. Marcel explains: 'We'd been looking at the subject of diversity for a while, but not so specifically at inclusive leadership. Internally, we asked the question: what is inclusive leadership and what does it mean for us as an organisation?' Particularly for young generations, personal development and inclusiveness are important themes. Learning Agility is a vital component for keeping this on the agenda.
Construction companies often have a more directive management style. That gives employees the feeling: do I matter? Do I add value to this company? 'To involve people in your adventure, you need to really engage them. Traditional management is no longer enough because of all the social changes taking place in the new generations.' The talent in the organisation must be given the opportunity to grow. That will generate growth in the organisation of the future.
Life balance
We also see a traditional style of management in HR. 'To be blunt, you could say that HR in a construction company is traditionally more focused on processes and less on people. That's the transformation that needs to be made. Letting go of the old without knowing exactly what the new looks like. We are keen to change, but we want to know in concrete terms: what are we going to do? How exactly should I behave? That's a nice challenge that involves big things as well as small things.'
'Work-life balance' needs to become 'life balance'. People need to be able to relax when it suits them and work hard at moments when they are asked to do so. A healthy relationship in that respect creates more inclusiveness and personal growth and gives people more of a sense of being relevant. Marcel: 'We don't yet have that degree of empowerment. In practice, it's often problematic, but we want to move to a situation where we give employees more responsibilities and guide them on output rather than input.'
Learning Agility is people's ability to develop new effective behaviour quickly based on new experiences, and then to apply this behaviour in practice. Learning Agility is measured in four dimensions and one transcendent factor: Self-awareness. This last factor also influences the score for each part. 
People who achieve a high score for Change Agility are always curious. That curiosity is always stimulated by new situations and the unknown. They love experimenting, trying things out and having new experiences. As such, they experience more. They also learn more from their experiences, because they are motivated to find out more about the unknown. This is something they also enjoy. 
People who achieve a high score for Mental Agility like it when things are complex or unclear, so that they can create a new clarity with new ideas. They love analysing and can often approach things differently by thinking outside the box. They have an open perspective and love new ideas. This means that they recognise patterns more quickly in a new experience. They understand the situation more quickly, and what they can learn from the experience.

People who achieve a high score for People Agility are constructive toward others and are open to people from different backgrounds and with different opinions. They have a need to understand what others mean and take other people's opinions seriously. This means that they interact with other people more easily and learn from the input and experience of others. Furthermore, they find it easier to adapt, for example to people from different cultures. As a result, other people share more with them. 
People who achieve a high score for Results Agility have a strong need to be successful and are constantly searching for the way to achieve results. They are often ambitious, self-assured and stay calm under pressure. Because they are better able to set goals in new and unknown situations, they retain more focus and learn more quickly what does or doesn't matter to make a success of new things.
People who achieve a high score for Self-awareness know their own strengths and weaknesses. They are often critical about their own performance and actions. This means they are more focused on how they can do things better, and their willingness to learn is higher. Self-awareness therefore plays an important role in Learning Agility: a high score strengthens the possibilities in other Learning Agility elements.