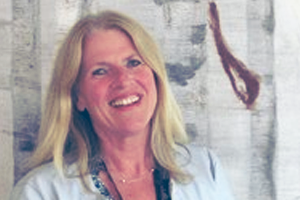 Talent for today, tomorrow and the future
Talent for today, tomorrow and the future
How USG People actively focuses on Learning Agility
Ariane van der Kooij
Digital innovations are changing existing business models and sectors; job positions and roles are becoming blurred. For organisations that were always able to rely on the predictability of markets, the necessity of now having to operate with speed and agility presents a formidable challenge. How do you ensure that the organisation and management are future-proof in this rapidly changing world? One of the ways HR services provider USG People does this is through actively focusing on Learning Agility in various HR processes.

A different dynamic in the market
The services offered by USG People contribute to a properly functioning labour market. We want to bring people closer to their passion by matching them with jobs that are meaningful to them. The profiles selected and the performance requirements fit seamlessly with the market demand - something that was familiar and reasonably predictable for a number of years. However, the impact of digitalisation has changed the market dynamic, creating the need for adjusting the business model: the once self-evident demand in this sector that was linked to market trends has been replaced by a different kind of collaboration between customer and supplier.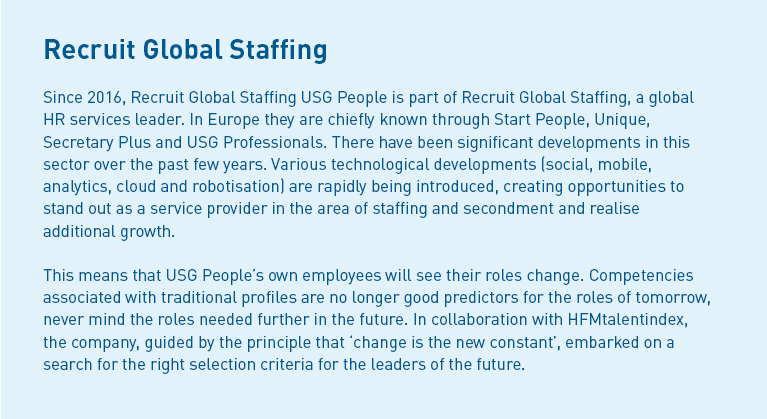 Within the new context, it is in USG People's own interests to have the right people in the right place, and especially make sure there is continuity in key positions. For years now, various talent programmes have provided insight into the available talent. In the selection process for management and high potentials, objective data from assessments is always used. A few years ago, Learning Agility was added as one of these criteria.
Preparing for an unknown future
Thanks to reasonably predictable customer demand, aiming for the best results used to be a straightforward matter for our managers. You need twenty temp workers? Just ask and we'll deliver. But these clear-cut customer demands gradually became more and more complex. 'Can you offer a solution where we have 24/7 access to a pool of skilled flexible workers who are able to make the staffing arrangements themselves and where you take on the associated record-keeping work?' A different kind of working approach was needed to successfully meet the challenge of such an assignment. And consequently, this also created a need for a different leadership style. The change was necessary, but there was certainly awareness of the fact that this would not be an easy transition. Our managers would have to change the way they work, more project-based, in teams comprising not only their own employees, but customers and other stakeholders as well. The management required a different set of talents. It was also clear that these changes were just the beginning. Just as you've figured out how you'll meet tomorrow's demands, yet another change in the future presents itself. The qualities of tomorrow might be obsolete further in the future. So how can we as an organisation prepare for an unknown future?
'The qualites of tomorrow might be obsolete further in the future'
This brought us to a key question: how do we select the high potentials of tomorrow and the future in the here and now? It's one thing to have a future-proof workforce, but leadership has to be future-proof too. We decided to explore this with Koen Hofkes, CEO of HFMtalentindex. At USG People, we have acquired years of experience with this party in the field of online assessments and Talent & People Analytics.
Making the unpredictable predictable
What kind of yardstick do you need to use when looking for people who will perform well in an unknown future? Using the method of preparing a competency profile leaders have to meet based on identifying the success factors within the current context is no longer viable. You then know that your approach is obsolete, because the current trend may not necessarily be applicable tomorrow. You also know that the currently foreseeable future, along with its corresponding demands, will also be subject to the same changes. In short, a successful profile for tomorrow is probably not the same as a successful profile further in the future. It appears to be an unsolvable problem for an organisation: a situation where you are scouting out people who have the qualities needed to effectively anticipate and respond as needed to constantly changing business demands.
'People who possess the quality of being able to develop new qualities in a new situation'
The answer was found in a paradigm shift. Instead of looking for people with specific qualities and competencies needed for resolving known problems, we needed to look for people who possess the quality of being able to develop new qualities in a new situation. The core of this idea is being able to effectively deal with change. Or to be more specific: who has the capacity to quickly learn and exhibit new effective behaviour when faced with change? And how can you measure that?
Learning Agility
Fortunately, we at USG People were not the only organisation confronted with this problem. The ability to continually learn new things in a constantly changing context has a name: Learning Agility. This is the ability to quickly develop new effective behaviour based on new experiences and to then successfully apply that behaviour in practice. And this ability can be measured. Important: various studies on Learning Agility indicate that for the time being, this concept can be used in a cross-cultural context.
'The ability to quickly develop new effective behaviour based on new experiences'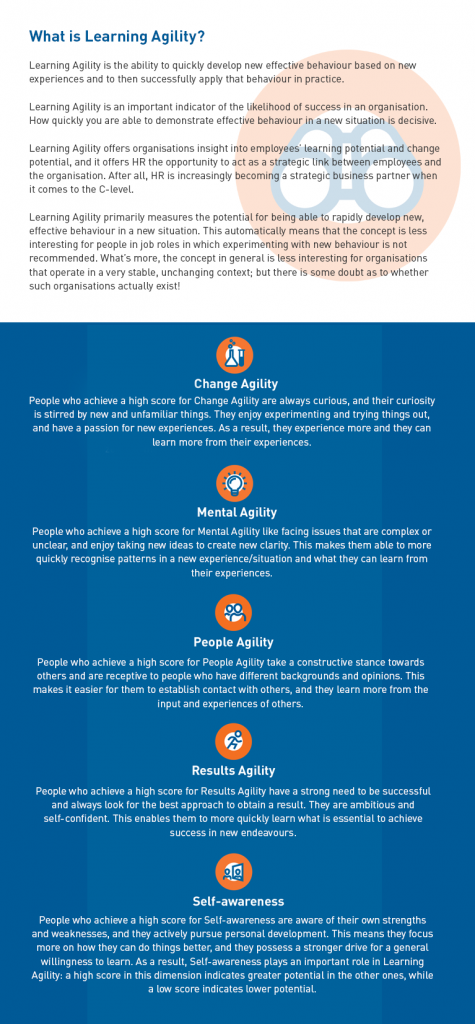 Learning Agility and Business performance
Right, so we now had a practical concept that could be used to tackle our question regarding 'searching for tomorrow's potential'. We first looked at the current population at USG People: what is the composition of this group? Using an analysis of the data available for around 500 managers (from upper and mid-level management) who had previously been tested within the framework of development and succession planning, we were able to calculate the Learning Agility of our current population. This delivered some interesting results for our 'constant change' business case.
The total score for the management's Learning Agility was higher than the external benchmark score, with a few noteworthy results in the different domains.
For example, there were higher scores for the Results Agility and Change Agility dimensions than for Mental Agility and People Agility dimensions. It would appear that in new situations, our managements primarily learns by linking confidence and results. The score was lower for aspects such as Learning from others and Examining & Exploring.
So is that a problem? No, but it did give us something tangible that we could improve. Hofkes: "The expression 'two heads are better than one' is very important to keep in mind, especially if you're sure that you don't know everything yet. So your quest is something you will do together, make discoveries together - this is what People Agility is about. Furthermore, for existing business models it is important to examine matters, think out of the box, and explore different scenarios. People who score high in Mental Agility are good at these types of things."
And that was subsequently confirmed in the analysis at Brands level at USG People. We looked at the brands with the highest returns and whether there was any relationship with Learning Agility scores. These scores were more equally distributed across the best-performing brands and business units. It turned out there was a correlation between a higher Learning Agility score and higher business performance; that's what we saw. This meant our theory was confirmed in practice: When organisational units are managed by the managers who can most effectively respond to change, the best results are achieved, because these units are able to more rapidly adapt to new market demands!
So let's get started
The results of this internal analysis were presented to USG People's Board of Directors and its various management boards. Their response was to ask for a targeted enhancement of USG People management's Learning Agility, where Learning Agility would be clearly linked to business performance. We then got started with the HR business partners and looked at which objective assessment data was available for each brand. This data was made complete with assistance from HFMtalentindex. We started in the Netherlands and Belgium, and both countries were quick to embrace the project.
'Minimum Learning Agility score as an extra condition in the selection process'
Learning Agility was first adopted across the board in our selection process. The aim here was that only people with a clear above-average Learning Agility score would be eligible for placement in key positions. That involved more than just the general score. For example, there were also guidelines in place for People Agility scores and Self-awareness scores. We preferably hire people with a total Learning Agility score of 6 or higher, as this is a score that distinguishes these candidates in the market. Depending on the role, the composition of the team, and context, the degree of importance attached to specific domain scores can vary. We are currently exploring the concrete impact on business performance when a particular domain is given less weight or, in contrast, when another domain is given too much weight. A few years ago, we also included a minimum Learning Agility score as an extra condition in the selection process for our central Talent Management. Perhaps it's more than just a coincidence that we recently filled 100 percent of key positions with people from our own company. The majority of them came from our own Frontrunners Talent Management Programme!
Learning in a changing organisation
Have we resolved all the issues? Of course not. New issues always arise. A high degree of Learning Agility in our organisation contributes to an improved ability to fulfil our objectives and strategic ambitions in a complex, rapidly changing environment. USG people therefore decided to actively focus on increasing Learning Agility, especially in the critical, strategic roles. One of the effects this had was that it simultaneously created a demand for the development of Learning Agility that we see today. After all, not everyone has the same aptitude for agile learning. USG People has clearly focused its efforts on a learning organisation. While targets have to be met, we are also in the people-business. This doesn't just apply to external parties. It definitely applies to our own organisation as well. Not everyone learns at the same speed or in the same way. Learning relates to both the people in the organisation and the organisation itself. It raises the following questions: does everyone have to be learning agile? Which job roles require a high degree of Learning Agility? And when is it not as important? And the main question: how can you increase your own Learning Agility? The entire organisation is now abuzz with Learning Agility. Initiatives such as organising Self-Awareness workshops are being promoted, and various training sessions are being offered in internal training programmes for the development of individual Learning Agility. We enjoy focusing our efforts on people and their development. That has been and remains a fundamental part of our organisation.
Some closing words from Koen Hofkes: Learning Agility turns out to be a strong indicator for success, but it shouldn't be seen as an instant panacea. It works best if the organisation is able to achieve a critical mass in terms of Learning Agility. This is something that is reflected in our earliest studies on team effectiveness. If someone has a high Learning Agility, that often means that this individual demonstrates high performance everywhere and in many situations. The same applies to groups as a whole. It also turns out that high business performance can practically always be associated with a high Learning Agility.
More than enough reasons for actively giving Learning Agility a role in leadership development and organisational development.
Source: MD – Magazine for talent and management development – www.MDonline.nl