An objective picture of sales talent
Online assessment of commercial qualities
Success and risk factors of commercial jobs
Including easily applicable selection questions
The entire test can be completed in 20 minutes
Recognising sales talent
Better sales people mean better sales results. The HFM Sales Potential Index is the online assessment that helps you to discover which candidates are cut out for commercial success. The HFMtalentindex Sales Potential Index (SPI) tells you within 20 minutes whether your candidate has the right strengths. The SPI is a completely automated expert report which informs you immediately whether or not you are dealing with a commercial ace. It is used to identify talented sales people early in the selection process. You interview the right people and hire the sales people who get results.
Predict commercial success
From the start, SPI gives you certainty about the commercial qualities and pitfalls of your candidates. The report reveals, clearly and comprehensively, how much aptitude your candidate has for 11 crucial sales competencies. Real life studies repeatedly show that these competencies have the most predictive value for commercial success. The SPI lists all the candidate's commercial success and risk factors in a clear and compact report.
Better sales people, better results
If you are looking for a competent sales person, you want to be certain that the candidate has an aptitude for sales. The SPI will tell you. You get objective and comprehensive information about the candidate's commercial qualities and underperformance risks. The SPI makes gifted sales people more effective by giving them insight into their strengths and weaknesses. The report presents options for focused coaching and development, helping them to learn how to harness their resources to best effect. Their natural gift for selling is thus used more effectively. If one of your employees is considering a commercial position, the SPI will reveal whether that employee has the right qualities; the SPI determines the path of the employee's career.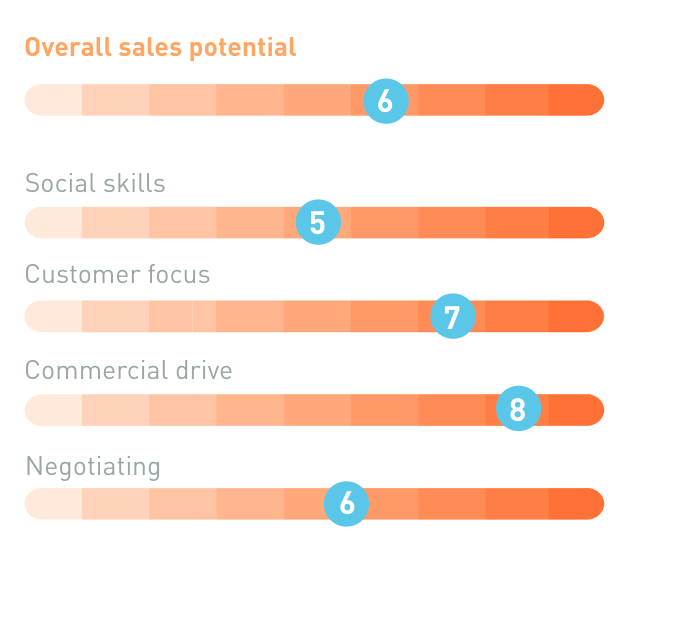 Commercial success and risk factors in a clear and compact report. It provides a clear overview of the candidate's overall sales potential.
Related Articles