The employee journey
Facilitate job satisfaction so talent finds you
The business tries to bring in customers; you try to find talent. What if we told you that both of these things are directly connected to each other? There's a good reason why this quote from Richard Branson is world-famous: 'Clients do not come first. Employees come first. If you take care of your employees, they will take care of the clients.' Research conducted by Bellet et al. (2019) revealed that employees are 13 percent more productive when they are happy. But how do you ensure your employees are happy? The employee journey helps you identify moments when you can structurally deliver a dose of job satisfaction.
What is the employee journey?
The employee journey is the journey an employee takes in a company, starting from the first moment of contact and lasting until the employee's departure. There are certain moments during the employee journey that make more of an impression than others. Do you still remember your first day at work? Sure you do. But how about the second day at work, the third week, or even the fourth month? The first day simply has a much bigger impact on an employee. And there a more moments like that that represent a milestone in the employee's journey; we refer to these moments as 'touchpoints'. These are important moments for the employee in which the organisation has an opportunity to turn the moment into a positive experience. The more positive moments there are during the journey, the happier the employee.
What are the benefits of an employee journey?
The employee journey is in fact a way of facilitating job satisfaction. By creating a sort of roadmap, you reveal all the moments that have an impact on the employee. You add real value by very consistently fulfilling the promise at each touchpoint. We call this promise the employee value proposition (EVP). This is the organisation's value proposition; the promise made to the employees. It answers the question of why people want to work at an organisation. The days are long gone when just offering an attractive salary and a ping-pong table in the hallway would be enough to win the war for talent. People want more than money: they want a good employer. A good employer who ensures they are happy in their job. By structurally anticipating the needs of the employee, and thus facilitating job satisfaction, you can stand out as a top-level employer. This results in higher productivity, reduced absenteeism, and all of a sudden, you are an attractive employer for talents.
How to remain attractive for talents
As a company, you don't just want to hire the best people; you also want them in the right place and you want them to stay. Presenting a bouquet of flowers when an employee signs the contract is a nice gesture, but it's not enough to avoid losing talent. What they want is a focus on development. They want you to pay attention to fulfilling their needs, and they want opportunities for growth and advancement. This is something that demands a data-driven approach to the employee journey. You just can't recognise talent based on appearances. Just like you can't smell if an employee would perhaps be much happier in another role. And when and how do you decide whether someone is actually ready for the following step as a supervisor? Do these seem like tough questions? They are actually not all that hard to answer if you use the right assessments at the right times. This results in a wealth of data that gives you better insight into the talent of your current and prospective employees.
How do you create an employee journey?
Generally speaking, there are three phases in the employee journey: entry, advancement and exiting the organisation. In these phases, we can identify six important touchpoints: selection, onboarding, development, growth, advancement and exiting the organisation. You can see an example of an employee journey below. This is a basic model that you could use right away. We have indicated which assessments are appropriate for each touchpoint at that point in time. You can now add touchpoints that are important for your target group to the ones above. Identify and list all the moments that are important for the employee. Then incorporate these additional touchpoints in the employee journey. Next, you can place the actions you will take in the journey; how will you respond to all the touchpoints? Take the time to think this through, and invite some people to take part in a brainstorm session. Because it's actually the little moments, the ones that are just a bit different, just a bit more personal, that are appreciated the most.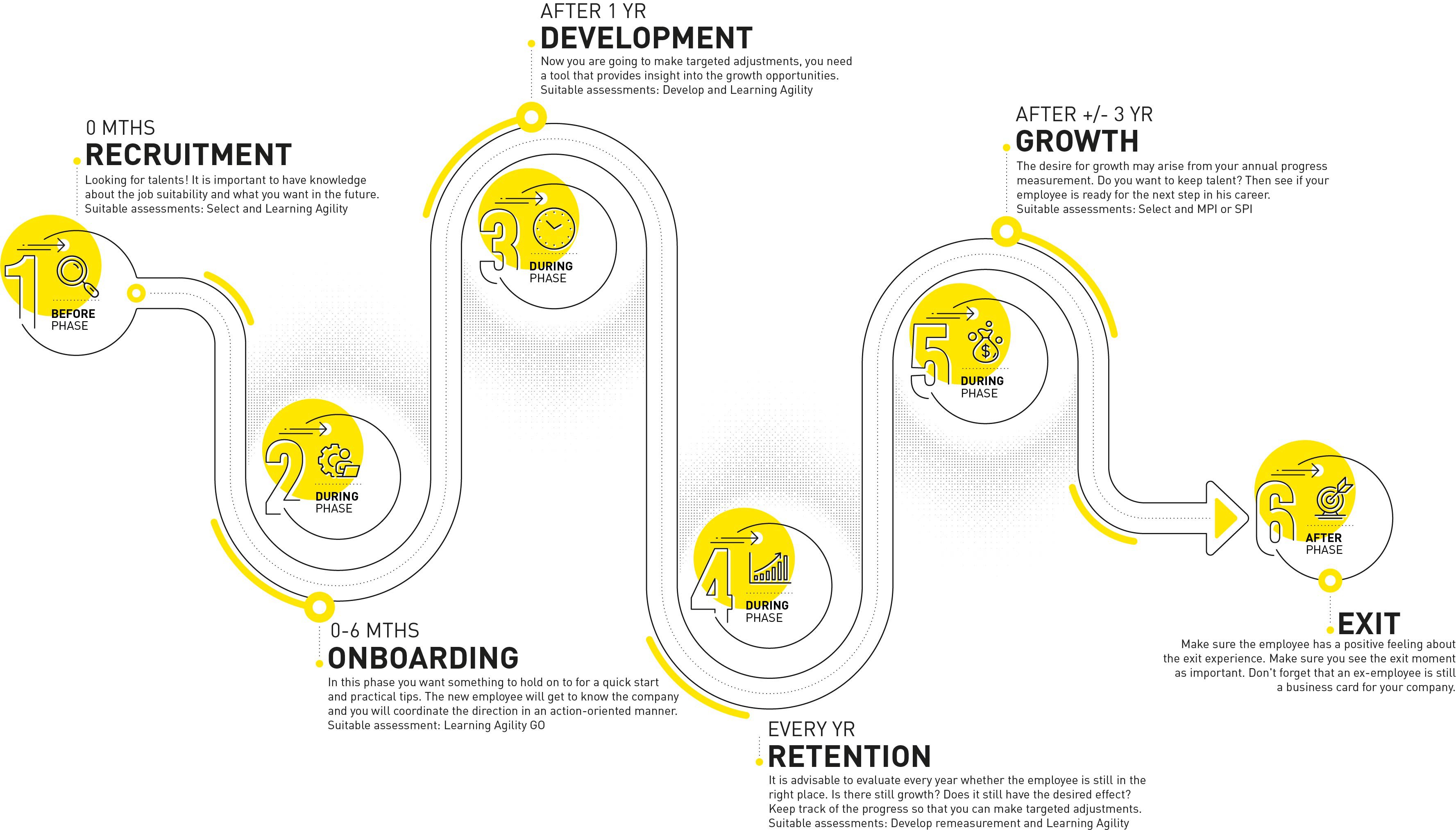 One size does not fit all
A common mistake is that people create a single roadmap of the employee journey and map out a general route for all employees at once. They treat the employee journey as if it's a one-size-fits-all experience, something it most definitely is not. The whole idea behind the employee journey is that you actually effectively anticipate and respond to differing needs. This way, you can map out a journey for the talent programme, a journey for the operational experts, one for the specialists and one for the managers. This means an employee journey is always tailor-made. It is also important that the journey is always up to date; this guarantees that you offer continuity to the needs of your employees and that you consistently implement the EVP. Make sure the employee journey is structurally kept on the agenda.
Are you one of our assessment platform customers? Contact your account manager, and he will work with you to create an employee journey.