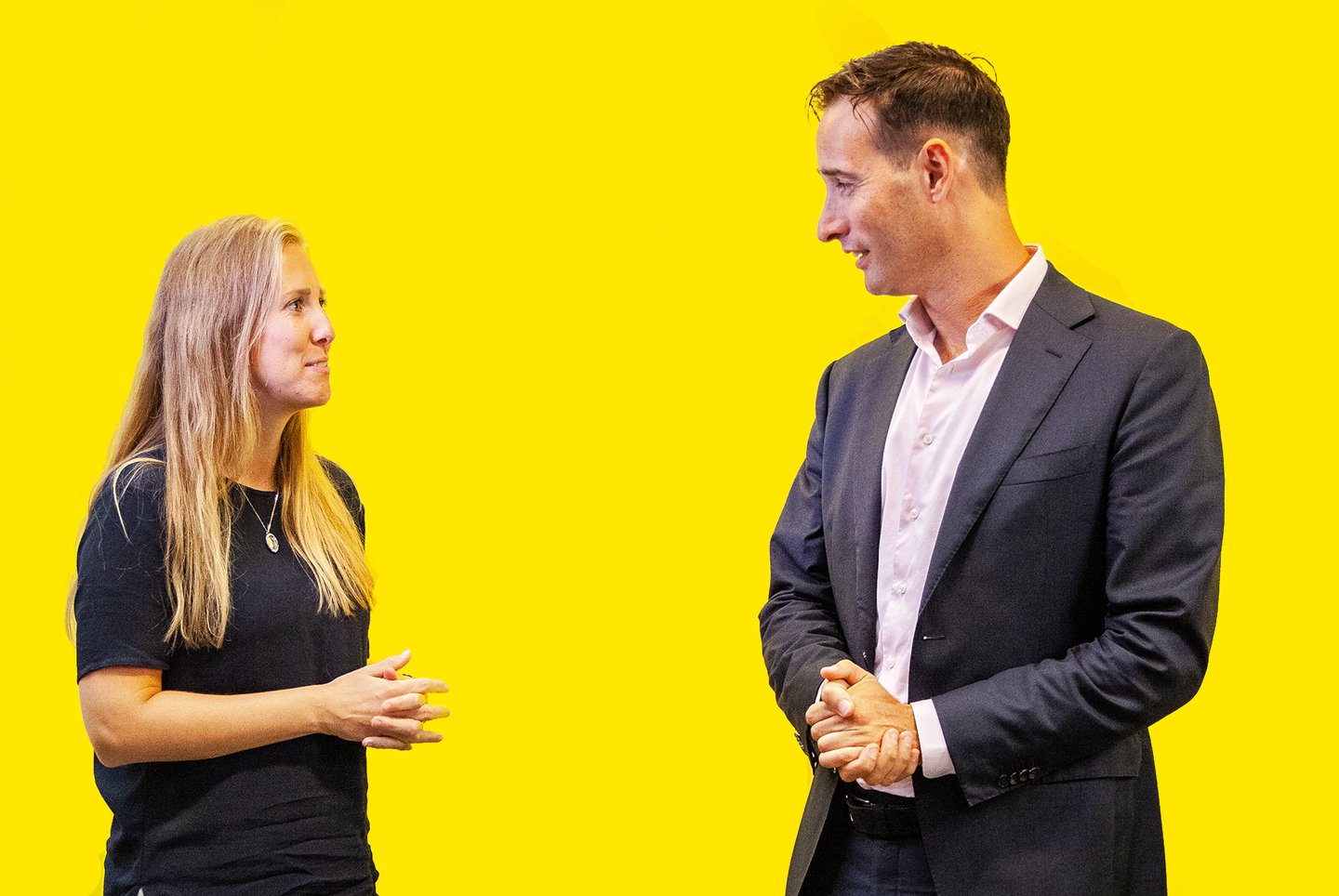 The transition of the NN Group: Hugo van Zelm van Eldik and Melanie Otto about Learning Agility
The transition of the NN Group: Hugo van Zelm van Eldik and Melanie Otto about Learning Agility
Hugo and Melanie explain how and why Learning Agility is applied at NN Group.
The economy, society and many organisations are undergoing radical changes. As an important player on the financial services market and like all the other big traditional financial service providers, NN Group is also at a turning point.
NN is currently making the transition from being a traditional bank and insurance company to an IT-driven company. The financial welfare of the customer and customer interests are still key, but the products are sold very differently than ten years ago: the products are increasingly marketed digitally.
Hugo van Zelm van Eldik is Principal Recruiter NN Group Staff & Nationale-Nederlanden, where he is developing a new centralised recruitment & labour marketing department. Together with 15 professionals, he is responsible among others for NN as Employer of Choice. To find and recruit the best specialists, NN Group continuously invests in new techniques and programmes.
After obtaining her Higher professional education (HBO) diploma in Psychology, Melanie Otto started work for an organisation that outsources ICT professionals. Six years later she joined NN Group as a Recruiter. Here she is responsible for recruiting new colleagues for the Customer & Commerce business unit within Nationale-Nederlanden.
Hugo and Melanie explain how and why Learning Agility is applied at NN Group.
Learning Agility in Recruitment
Because of the changes at hand, NN Group will need employees in the future who can respond to the changing environment in which the organisation finds itself. In other words: the organisation needs employees who are learning agile.
Learning Agility is an important theme for NN Group because of the transformation currently ongoing throughout the organisation, and that obviously starts with recruiting the right employees. For the past year and a half, the Recruitment department, where Hugo is team leader, has been using online selection assessments that also measure Learning Agility. Learning Agility plays an important role in the selection process. Candidates who do an assessment must score at least an average score or higher for Learning Agility. Learning Agility has thus become a permanent feature of the policy within the organisation. Hugo explains: 'We look at the whole assessment, as long as the Learning Agility is more than satisfactory. We therefore check the average score for Learning Agility and look less at the scores for the specific dimensions. Often you find that a low score for one dimension is compensated by a higher score for another dimension. We frequently see good connections between the competencies that we measure.'
A special role has been allocated to the dimension of Self-awareness, one of the Learning Agility dimensions. Because if a candidate achieves a high score here, that strengthens their possibilities in the other Learning Agility dimensions. On the other hand, a low score here limits those possibilities. Candidates who are aware of the possibilities of improving some aspect of themselves will learn more effectively than candidates who are easily satisfied with themselves. If a job applicant scores below average during an assessment for Self-awareness, that is a point of attention. But a candidate doesn't have to score highly on everything. They don't need to be good at everything. Melanie: 'We definitely look at what else is required for a job and in terms of complementing the team. In fact, lots of facets are important.'
Sometimes candidates have a good first interview but don't score so well in the Learning Agility assessment. It's then important to give good feedback, because candidates can't always estimate the weighting of the test. The recruiters must therefore manage the expectations of candidates well and clearly explain that the test is a serious part of the selection procedure.
Large Scale Scrum (LeSS)
Learning Agility plays a big role throughout NN. The Customer & Commerce business unit is currently working towards a major transformation. This business unit, where Melanie works, plays a key role in making financial service provision more personal and relevant for the customer. Everyone in this business unit will now or in the (near) future work in multidisciplinary teams according to LeSS (Large Scale Scrum).
Someone with a high score for Learning Agility will probably adapt more easily to this change than someone with a low score. 'That's something we look out for, because it's an important factor for us.'
This also requires great flexibility from employees, because their role will change in terms of content and within the organisation. Some of them will take on the role of Scrum Master, for example, where you train, facilitate and coach teams. This new way of working, which was introduced a year ago, is exciting. It's a complex process, and switching is a challenge. It goes a step further than the scrum teams in which they already worked at NN. The Customer & Commerce business unit is now in the pilot phase, and eventually the plan is to roll out this way of working throughout the entire organisation.
Talent Management
Another challenge for the near future is the development of a talent programme. Hugo: 'That programme is intended to place people who have ambitions as manager within the organisation in different positions and in important projects within NN Group.' These high potentials can fall into these talent pools. These are employees who score above average for Learning Agility. Like all the big players, the organisation is also looking for the real top talents in the market and recruiting them. They may eventually be placed in senior management. By measuring Learning Agility, high potentials who can fulfil the role of ambassador can be found both inside and outside the organisation. In this way, the organisation ensures that employees can fulfil their potential and add value to the organisation through personal development.
In the future, employees who are placed in another role in the organisation will be asked to do a Learning Agility assessment. Finally, the Learning Agility Scan report provides concrete insight into the flexibility of employees who have been with the organisation for a long time. It reveals the current possibilities and is a way to boost the flexibility of employees and the organisation.
A next step might be performing team analyses too, so that we can look at the Learning Agility of groups of employees, for example, who can also be compared with each other. This will make it easier to focus on the effectiveness of teams and thus the even faster development of the organisation.