Competency Assessment
Online Competency Assessment System
Competencies for selection and development
Rapid and accurate gauge of employees' potential
Concrete questions for the selection interview
Know your candidate's competencies
The Competency Assessment System (CAS) produces a comprehensive outline of the candidate's strengths and weaknesses. Each competency in the chosen profile shows how much aptitude the candidate has for further developing that competency. You select the competencies for a profile and the report provides the information relevant to a specific position – a very useful tool for selection interviews.
Use validated online assessment
The CAS, which is based on the HFMtalentindex personality assessment, is a comprehensive validated test based on the Big Five model. HFMtalentindex, your online assessment system, translates the results of this test automatically to the candidate's aptitude for required competencies. This conversion is underpinned by scientific research and the extensive practical experience of HFM's organisational psychologists, producing a reliable picture of your candidates' leadership qualities. The report may be read without any prior knowledge, but it presents a concrete picture. Although no psychologist jargon is used, it is well founded, objective and accurate.
Clarity on suitability
The Competency Assessment System by HFMtalentindex reveals at a glance whether a candidate possesses the right competencies for a specific (future) position.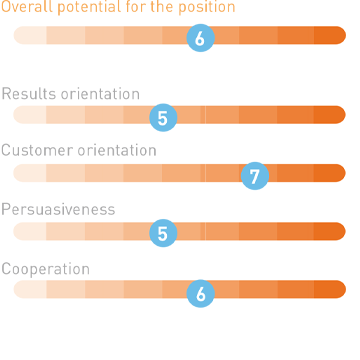 A clear overview of the overall aptitude for a specific position
Related Articles